Finally I've got the new "action bar" control system finished. I have spent quite a lot of time polishing things, fixing bugs etc., and I've even drawn a couple of new icons for things that didn't have icons in the original Knights, as you can see in the screenshot below (click to enlarge).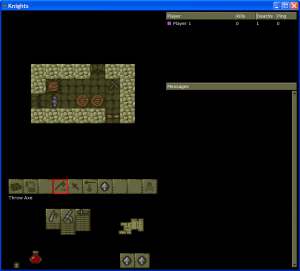 Note the new skull-and-crossbones icon (for suicide; there is no separate suicide key in the new system) and also the "Throw Axe" icon. As you can see, when you mouse-over an icon, it highlights in red and a text description appears telling you what the icon does. (OK, well, you can't actually see the mouse pointer in the screenshot, but never mind.)
One thing I haven't done is got rid of the "approaching" system. I did do some experiments in this area but decided to leave approaching in for the moment. This is mostly for reasons of time — I want to get a release out soon and I haven't had time to finish off the "approach-less" controls yet. I might have another go at this in a future release though.
So the next priority is to get a release out so that people can test the new controls. After that, the next major step is going to be Lua scripting — both documenting what has been done so far, and then pushing to make much more of the game scriptable, so that meaningful mods can be created.
Look out for a release soon 🙂