A gentleman named Loki Trickster has sent me some ogre graphics for use in Knights. I have reproduced some of them below with his permission.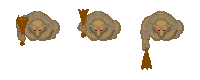 The idea is that the ogre would be a slow-moving, but powerful, "boss" monster. He would have his own room (a bit like the guarded exit or Necronomicon rooms), probably with a lot of corpses in it, and he would attack any vampire bats or zombies that came near him. Perhaps there could be a special quest type to kill the ogre, or bring something back from his room.
Unfortunately I'm not able to add the ogre to the game right now (due to lack of time), but as I've said before, I'm planning to add a modding system to Knights, which will make it easy to add new monsters (and other things) to the game. I'm a bit busy at the moment but I should be able to make some progress on that in December.
Reminder: Knights game tomorrow
Also I just want to remind people that we are planning a Knights multiplayer game for tomorrow (13th November) at 7pm GMT. If you want to find out what Knights is all about, then why not log on to the server at that time, and join us for a few quests?