So this is just a quick update to let you all know what I've been working on recently.
Apart from general bug fixing I have so far added two new features to the next version of Knights. These are:
Improvements to team games. I've fixed the glitches we found recently and disabled friendly fire for team games. I've also added a team chat feature (send chat messages only to your team mates) and allowed more than two teams in a game.
I made a change to the dungeon generator to allow it to reflect and/or rotate the predefined dungeon rooms. This is a "cheap" way of adding a bit more variety into the generated dungeons. It effectively means there are now eight different versions of each room (for the mathematicians, this is the D8 symmetry group…) Here is an example: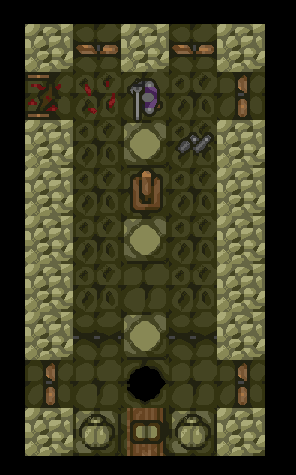 In addition I will try to add the following if I get time:
Deathmatch quest type. This has been suggested a couple of times now. Here's my proposal for how it should work:

Knights will spawn at a random entry point (i.e. it's a different point each time you respawn; knights don't have a fixed "base" location in this game type).

You get one point for a kill, and lose one point for a suicide (e.g. falling down a hole or zombifying yourself).

There is a time limit and the player with the highest number of points when the time runs out is the winner.

I also wanted to have a go at implementing Loki's suggested ogre quest (see previous post). This means importing the ogre graphics into the game, defining how the ogre behaves and designing a room layout for the ogre's lair.
The plan currently is to release this either later in December, or early January.